The Apprenticeship #SkillsChallenge
The Apprenticeship
#SkillsChallenge video workshops
During the Covid-19 lockdown, Wine Cellar thankfully experienced buoyant trading and a jolt forward in SA's new digital economy.
Many of our fine wine clients are content to wait for delivery, as wines require time to mature or are purchased for a special occasion. We are however extremely concerned about the state of our economy and especially our closely-connected hospitality industry.
We hosted a series of #SkillsChallenge video workshops before offering 4 paid apprenticeships at Wine Cellar post-lockdown.
We invited all hospitality industry job-seekers, with an interest in wine, to join us for a series of Zoom webinars. The Wine Cellar team, along with industry experts, offered insight into the SA wine industry, its various positions and the skills required to succeed.
Post-lockdown, we offered FOUR 3-month paid apprenticeships to unemployed hospitality industry workers. Successful candidates are being considered for full-time positions.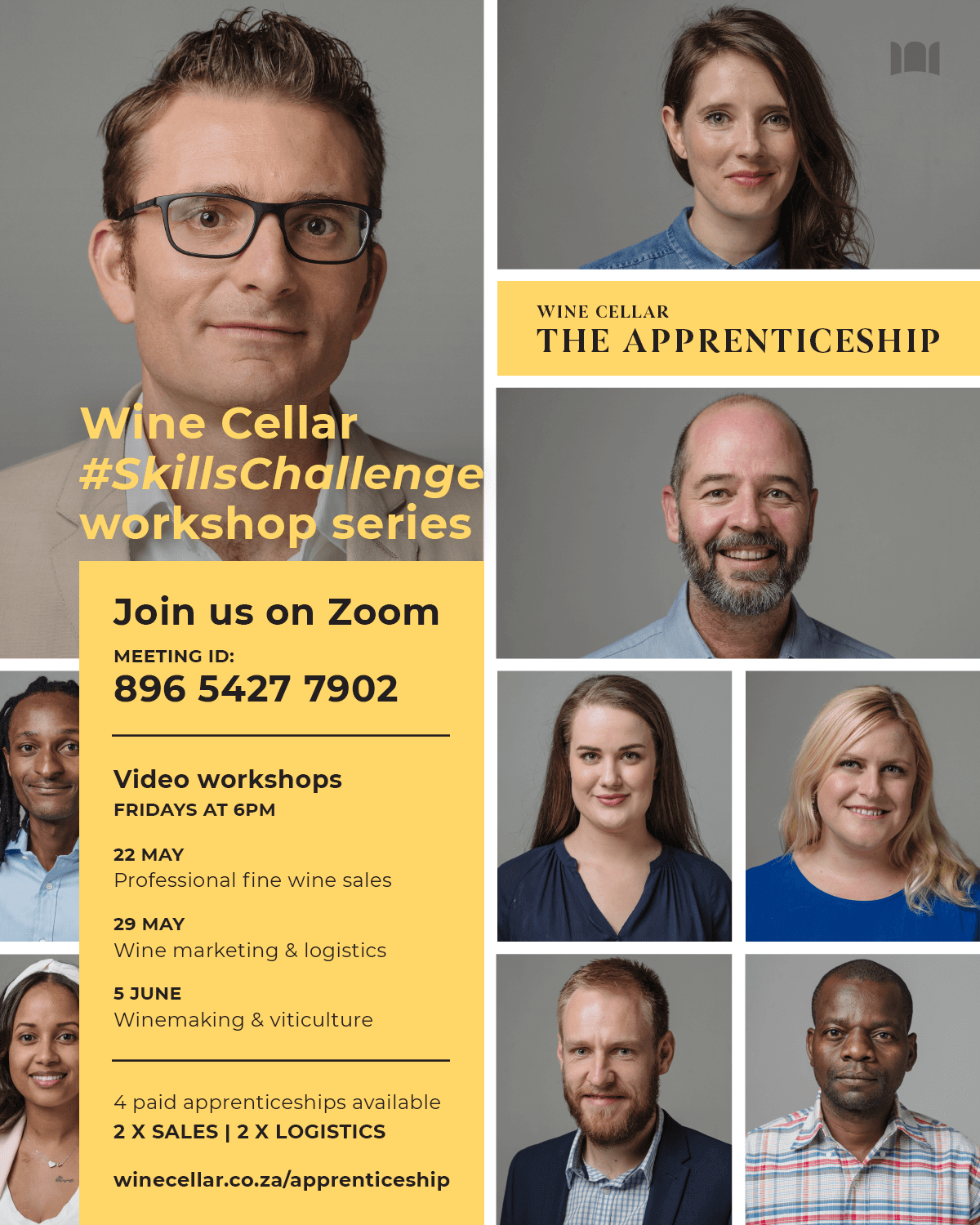 Three weekly sessions
Each week we assembled a panel of professionals and introduced a new skill set for discussion. To watch the workshop recording, visit our YouTube channel here.
SESSION 1: Professional fine wine sales (Friday, 22 May at 6 pm)
Our sales team discussed the skills behind selling fine wine. We explained our personal positions, daily activities and career paths so you can learn more about the industry and what it takes to be a fine wine professional.

Speakers: Roland Peens, James Pietersen, Jolette Steyn, Johan Malan, Aimée Beaumont and Paige Errera.
SESSION 2: Wine marketing & logistics (Friday, 29 May at 6 pm)
We delved into the world of fine wine marketing in SA, with a strong focus on e-commerce and digital marketing. We then discussed the logistics and administration skills required in the world of wine.

Speakers: Mike Ratcliffe, Louw Strydom, Bubbles Hyland, Paige Errera, James Pietersen and Roland Peens.
SESSION 3: Winemaking & viticulture (Friday, 5 June at 6 pm)
In our final webinar, we hosted a panel of local winemakers and winegrowers to talk us through their journeys in the industry and the skills that are required to be successful.

Speakers: Chris Mullineux, Danie Carinus, Johan Reyneke, Tinashe Nyamudoka and Roland Peens.
Available apprenticeships
Two warehouse apprenticeships
3-month contract post-lockdown
Entry-level position
Cape Town-based
Two fine wine sales apprenticeships
3-month contract post-lockdown
Mid-level position
Cape Town-based
Please send your CV and a short motivational letter to apprenticeship@winecellar.co.za.
Accept the #SkillsChallenge
Wine Cellar CEO, Roland Peens, would like to challenge all CEOs across SA and around the world to consider similar initiatives. Which industry can YOU assist? What skills can YOU transfer to the market?
Q&A with Roland Peens
Please tell us about Wine Cellar's #SkillsChallenge?
WineCellar.co.za is inviting hospitality industry job-seekers that have an interest in the wine industry to join us for a series of Zoom webinars starting on Friday, 22 May at 6 pm (CAT).
The WineCellar.co.za team, along with further industry experts, will offer insight into wine industry positions and explain the skills required to succeed. Our team of fine wine sales professionals will host the first webinar, with wine growing and wine marketing sessions in later weeks.
Furthermore, Wine Cellar is offering 4 apprenticeships to hospitality professionals seeking to enter the wine industry. I challenge all CEOs across South Africa to identify how they can transfer skills, especially those businesses that have profited over this difficult time.
How did this concept evolve and what is the purpose?
The Covid-19 fallout has decimated the hospitality industry and I believe the wine industry can absorb some of the lost jobs. While the wine industry too will struggle moving forward, we have an undeveloped industry, especially at the fine wine level. The two industries are also highly connected as restaurants collectively sell a large portion of fine wine.
WineCellar.co.za has been lucky to maintain robust sales during the lockdown. Our product, fine wine, is generally aged before drinking or kept for a special occasion, which means many of our clients are happy with delayed delivery. We are very thankful to be trading and would like to give back where we can.
Why did you decide to launch #SkillsChallenge at this point in time?
As lockdown is eased we are going to move towards the new reality of far fewer restaurants. We need to act fast to upskill and reskill our workforce. Job creation should be our number one priority.
This speaks to a real need in these times of disruption, who you would encourage to join?
While the traditional retail model is disrupted by e-commerce, restaurants will be also be disrupted by more efficient food and wine home delivery. Front of house professionals, especially waiters, already have some wine knowledge and the wine industry would benefit from more wine sales professionals.
Please tell us about the format of #SkillsChallenge?
Each week WineCellar.co.za will assemble a panel of professionals and introduce a new skill. Find the Zoom link above and join the webinar. In week one, the WineCellar.co.za sales team will discuss the skill of selling fine wine. I believe that skilled sales professionals have the ability to create their own position within a business, which in turn creates opportunities throughout the organisation. Indeed, WineCellar.co.za is a sales-led organisation.
Who are the spokespeople on the panel of the Wine Cellar #SkillsChallenge?
The session on Friday, 22 May will be hosted by our 5 fine wine sales professionals and digital marketing team to explain their roles as well as their journeys into fine wine. Both Sales Manager James Pietersen and I have worked in the hospitality industry and can offer unique insight.
This is a series of events on various dates, please let us know details of each?
On Friday, 29 May we will delve into the skill of wine marketing, as well as discuss wine logistics. In the final Zoom webinar on Friday, 5 June, we will host a panel of winemakers and winegrowers to explain their journeys and skills.
You are offering 4 apprenticeships linked to this challenge, how can people apply?
It is open to all hospitality professionals by sending a CV and short motivational letter to apprenticeship@winecellar.co.za. We are offering two fine wine sales apprenticeships, as well as two logistics apprenticeships. Successful apprentices will be hired by WineCellar.co.za.