Nudity 2019 by Radford Dale
Syrah for the geeks and those who love Jamet…
'Good structure, low-alcohol style. Bloody, dense, savoury and long. Impressive minerality with a Cornas-like intensity. Lovely winemaking.' – Tim Atkin MW (2018 vintage)
Every now and then, we open something in the office that excites the whole team. One whiff of the 2019 Radford Dale Nudity Syrah and comments like 'wow, so Jamet-like' were being bandied around – referencing the cult Côtes du Rhône red. The 2019 Nudity is a visceral wine that alights the senses with its enthralling Northern Rhône aromatics and light-footed, bone-dry Swartland palate. Sadly, the vineyard is no longer available and the project is ending.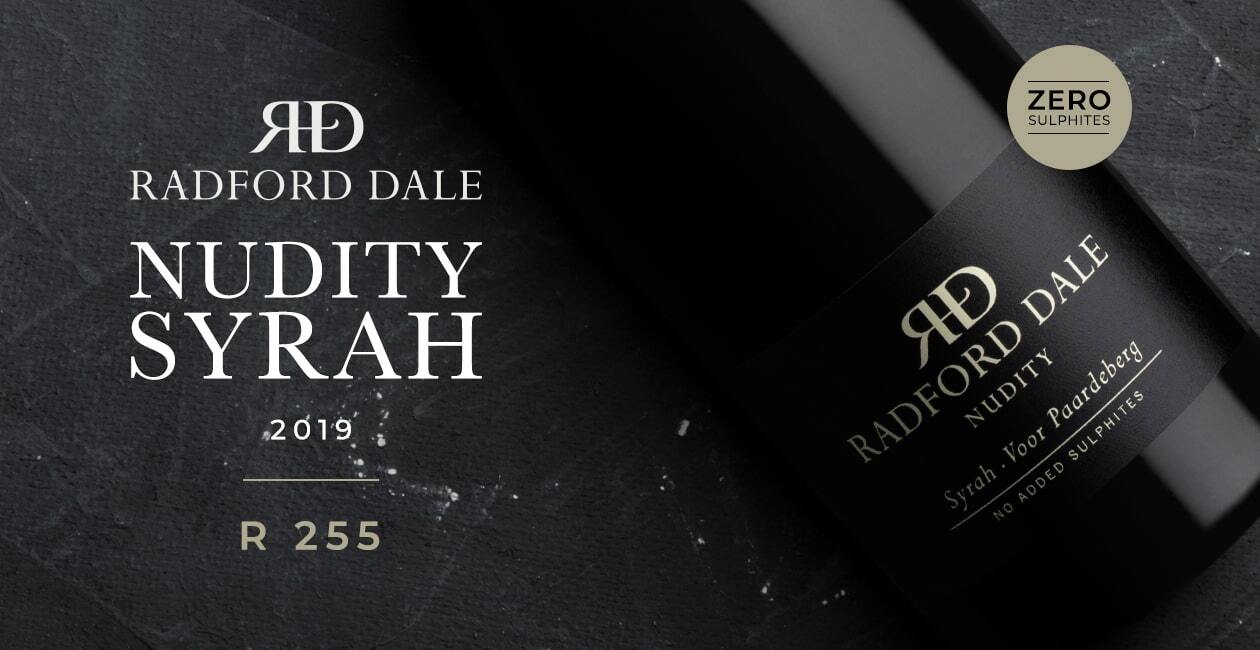 The grapes hail from an organically-grown vineyard in the Voor-Paardeberg. An experimental wine in spirit, it has zero additional sulphur and absolutely no intervention from Jacques de Klerk in the cellar. So, if you appreciate the true expression of a vineyard, this transparent 2019, with its beguiling aromas, light body and particularly refreshing acidity, is sure to bring you lots of joy. This is a limited release at only R255 per bottle.
Global trends towards environmental sustainability have resulted in many grape growers becoming more environmentally conscious and in tune with Mother Nature. Staying true to their culture, Radford Dale supports these practices by defying the age-old tradition of monoculture farming, which has been the commercial norm in SA for decades. Like the Nudity, the Radford Dale Terroir Selection wines are sourced from various sought-after, organically-farmed parcels around the Western Cape and are vegan certified.
* Note: Due to the hands-off approach of no fining nor filtration, this wine has significant sediment. Please decant and enjoy slightly chilled.