Testalonga Baby Banditos 2020
Testalonga
Baby Banditos 2020: Fresh, crunchy & pure

'Natural wine is simple: organically farmed at the very least in the vineyard, no added yeast or acid or tannin, in fact, nothing added except small amounts of SO2 if need be… and no fining/filtration.' – Craig Hawkins, Testalonga
Craig and Carla Hawkins of Testalonga are SA's most prominent producers of cutting-edge, non-interventional, natural wines. A recent visit to their 'Banditskloof' farm, just outside Piketberg, highlighted their vision and dedication to this pursuit.
Swartland-focused, they have long been pushing the boundaries and have grown a cult following amongst the world's top sommeliers. These are SA's ultimate 'geek wines' – they're daring and different, but in the best sense! They celebrate place and authenticity and represent wine in its most unadulterated form.
The entry-level Baby Banditos offer wonderful, light drinking, hovering around 12% alcohol (a few are even lower than that). These thirst-quenchers are joined by two fresh and pure El Bandito Méthode Ancestrale sparkling wines. As always, quantities are limited so place your order now.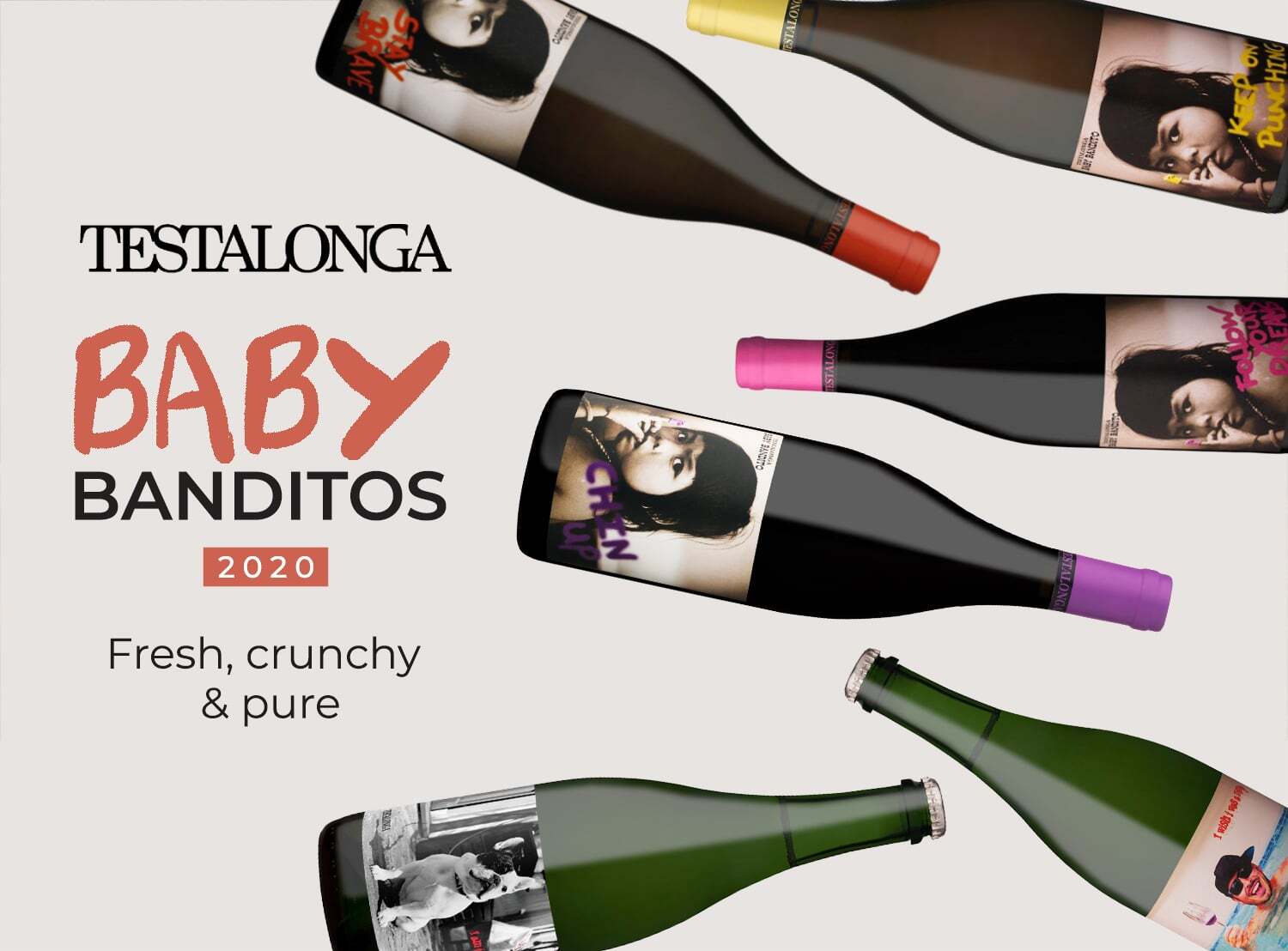 The 100% Carignan 2020 Baby Bandito Follow Your Dreams makes for crunchy, light, summertime drinking with its tightly coiled, red-fruited, ultra-fresh palate. Less serious is the 2020 Chin Up Cinsault, which is so delicious and light at 11% alc. that it's going to be impossible to share! From 100% destemmed Darling fruit, it offers potpourri spice and shy, red fruit with a bone-dry, crisp finish.
Sourced from an old vineyard, planted in 1961, the 100% Chenin Blanc 2020 Keep on Punching is crystalline, fresh and saline, versus the more geeky 2020 Stay Brave skin-contact Chenin. With 10 days on the skins, it has some added texture and a grapefruit pithiness.
The 2020 El Bandito I Wish I was a Ninja is made from 100% Colombard and off-dry in style. Together with the drier 100% Chenin Blanc 2020 I am the Ninja, these are fun and refreshing sparkling wines and the epitome of 'fun in the sun'.
And finally, we have secured a very small allocation of the limited El Bandito offerings, including the stunning 97-point 2020 Cortez. Please email Kenny to put in your requests.